[ad_1]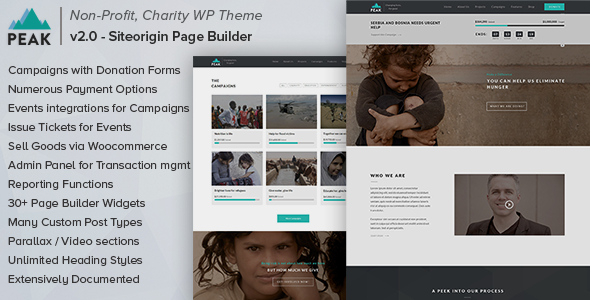 Compatible con WordPress 5.3. Última actualización en: 26 de febrero de 2020 | versión 5.1 –Cambiar registro

Lea el registro de cambios antes de actualizar a la versión 5.x, que es una actualización masiva de las versiones anteriores del tema.

Peak es un tema de caridad para organizaciones sin fines de lucro. El tema se integra con el reconocido Give Plugin de WordImpress: https://wordpress.org/plugins/give/ y el complemento Tribe Events Calendar.
Las páginas temáticas se crean utilizando populares Creador de páginas SiteOrigin. Peak viene con soporte para más de 40 elementos / widgets de creadores de páginas personalizados que son accesibles para una fácil inserción y configuración en el creador de páginas, incluidos los que son parte de nuestro popular Complemento de widgets de SiteOrigin. Por lo tanto, construir un gran sitio web de caridad ahora es tan fácil como arrastrar / soltar / configurar y publicar.
El tema presenta un tipo de publicación personalizado llamado Campaña que se integra con los formularios de donación creados por Give Plugin y Eventos creados a través del Calendario de eventos. Give plugin es bastante versátil y proporciona características como multitud de opciones de pago (a través de complementos pagos), gestión de transacciones, capacidades de informes para ingresos generados, etc.
El tema también se integra con WooCommerce para ayudar a las organizaciones sin fines de lucro a vender productos para recaudar dinero.
Descripción de las características:
Campañas con formularios de donación
Numerosas opciones de pago.
Integraciones de eventos para campañas
Emitir entradas para eventos
Vender productos a través de woocommerce
Panel de administración para la gestión de transacciones
Funciones de informes
Constructor de código corto premium
Totalmente receptivo
Opciones para una sola página o un sitio de varias páginas
Muchos tipos de publicaciones personalizadas
Esquemas de colores ilimitados.
Más de 1500 iconos listos para la retina
Toneladas de opciones
Control deslizante Premium Revolution, control deslizante Flex 2 y control deslizante Nivo incluidos (todos los controles deslizantes son totalmente receptivos)
Soporte para galeria
Barras laterales ilimitadas
Traducción lista
SEO optimizado
Más de 600 fuentes
Toneladas de códigos cortos con la herramienta auxiliar visual shortcode
Menú móvil moderno
Widgets para Flickr e Instagram
Cambiar registro
Versión 5.1

Updated - Minor fixes to the new backend framework. 
Updated - Livemesh Tools plugin 
Updated - Sample data

Versión 5.0

Updated - Complete rewrite of the theme with a new backend framework with a focus on ease of customization and performance. Incorporates template-based design for easy customization of the theme. Kindly test the upgrade in a dev environment prior to upgrading if you have done major customization to the earlier versions. More details on migration to the 5.01 version provided in the documentation.  
Updated - The new lightweight yet feature-rich framework provides up to 50% performance improvement. 
Updated - Moved shortcodes to a new plugin named 'Livemesh Peak Shortcodes' to conform to new standards prescribed by the Envato Theme Review team for existing items. 
Updated - Moved widgets, custom post types and their metaboxes, options framework to the 'Livemesh Tools' to conform to the new coding standards prescribed by the Envato Theme Review Team. 
Updated - Moved from PrettyPhoto lightbox plugin to Magnific Popup lightbox framework is much faster and responsive. 
Updated - The font icons with modern icons and also to remove surplus icons. The font icon files are about 80% smaller to help reduce the load on the site.
Added - Large number of templates for quick customization of the theme. Moved away from function or class-based design. 
Removed - The WP hooks that were present in the earlier versions. They were hardly used and obsolete. 
Removed - The Nivo Slider and Flex Slider options for the top slider. Please go through documentation which talks about migrating to new version to know more. 
Updated - Revolution Slider.
Updated - Documentation

Version 4.0

Updated - Fixes and enhancements
Updated - Options Tree Framework
Updated - Revolution Slider
Updated - Documentation

Version 2.7

Fixed - Color picker not found field in theme options.
Updated - Revolution Slider

Version 2.6

Updated - Revolution Slider
Fixed - Background images not showing up on single post headers
Fixed - The campaign grid malformed HTML with misplaced button.
Fixed - Instagram and email icon not showing on team profiles
Added - Improved compatibility with plugins like Events Calendar

Versión 2.5

Fixed - Warnings raised with PHP 7.x versions
Fixed - The page would exit if the revolution slider entry specified in the page options was missing. 
Updated - OptionTree framework to handle PHP 7.x versions
Updated - Isotope version and improved performance and compatibility with plugins

Versión 2.4

Fixed - Nivo Slider caption not displaying
Updated - Revolution slider

Versión 2.3

Fixed - Compatibility issue with Give plugin version 1.8 making the donation progress to disappear from campaign pages
Fixed - Alt tag text specified for images not taking effect on blog and other pages
Updated - Revolution slider

Version 2.2

Fixed - The theme would raise error on command line interfaces like WP-CLI. 
Fixed - The plugin activation prompt less intrusive. 
Updated - Revolution slider

Versión 2.1

Updated - SiteOrigin page builder elements/widgets
Updated - Revolution slider

Versión 2.0

Added - Rebuilt pages with awesome SiteOrigin page builder. Page sections is deprecated.
Added - 30+ page builder widgets for easy page composing. All major shortcodes are now available for easy configuration and insertion in the page builder. 
Added - Support for additional 15+ premium quality page builder widgets via author's plugin
Added - Ability to use Livemesh shortcodes tool in SiteOrigin page builder and Visual Composer. 

Version 1.2

Fixed - HTML parse errors encountered in a few rare occasions.
Fixed - Deprecated errors related to the Events Calendar.
Updated - Revolution slider plugin
Fixed - Deactivating Events Calendar results in a bug in single campaign
Fixed - Give button styling
Fixed - WooCommerce pagination

Version 1.1

Updated - Livemesh Shortcode Builder for latest shortcode updates. 
Updated - Added carousel shortcodes documentation and other minor changes to documentation.
Updated - Contact Info widget
Updated - Footer styles
Added - Display campaign header by default and hide from all pages once user closes the same.
Fixed - Piechart not showing up. 

[ad_2]
Fuente